Inserting data
After the installation, Events Made Easy add a top level "Events" menu to your WordPress Administration.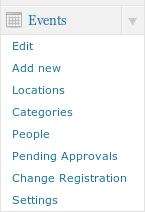 The Events page lets you edit or delete the events. The Add new page lets you insert a new event. In the event edit page you can specify the number of seats available for your event. You just need to turn on RSVP for the event and specify the seats available in the right sidebar box. When a visitor responds to your events, the box will show you his reservation. You can remove a reservation by clicking on the x button or view the respondents data in a printable page.
The Locations page lets you add, delete and edit locations directly. Locations are automatically added with events if not present, but this interface lets you customize your locations data and add a picture.
The People page serves as a gathering point for the information about the people who reserved a space in your events.
The Settings page allows a fine-grained control over the plugin. Here you can set the format of events in the Events page.
Simple events vs. repeated events
When adding a new event, a checkbox on the right sidebar lets you specify that your event is repeated.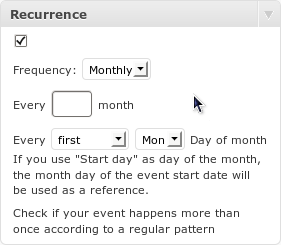 You can choose the frequency of the repetition among daily, weekly, monthly or even a random collection of days.
The following field lets you specify the recurrence interval, every N days/weeks/months.
Weekly and monthly events allow a further degree of customisation. You can choose one or more weekdays for weekly events (or use the event start day as reference); for monthly events you can specify a weekday or the start day of the current event, and the month week in which the event takes place.
Once the Repeated event checkbox is selected, you will be able to specify the event end date.
When you save a repeated event, Events Made Easy inserts a number of events in the database. The recurrence can be modified; the related events will be rescheduled accordingly. Events generated by a recurrence are editable, but once modified, they lose their connection with the recurrence. Thus, they won't be rescheduled if the recurrence is modified.
RSVP
Thanks to the RSVP function, you can include information about the event seats and keep track of people responding to your invitation page.
To enable RSVP and response gathering for an event, check the "Enable registration for this event" checkbox. A "seats" field will appear; that's where you put the number of seats available for your event. You can also decide if only registered WP users are allowed to RSVP for an event.
In order to let people register for your event, and eventually remove their registration, you need to insert the #_ADDBOOKINGFORM and #_CANCELBOOKINGFORM placeholders in your single event page. See the documentation concerning placeholders. The text on the submit buttons in the generated form can be changed in the Settings page.
Categories
Categories are just what they are: categories. You can create an event and put it in specific categories if wanted, and then display only events from a certain category (see the [eme_events] shortcode)